Key benefits
Fluid integrations: Tax1099 completes the informational loop. Collect and validate vendor info with W-9 eSolicit and TIN matching. Export to QBO. Import 1099-MISC info into Tax1099. We create forms. Edit, if you need to, and sync changes back to QBO.
Agile eFiling: Tax1099 fits your situation. Satisfy all 50 states' requirements. eFile forms and corrected forms for this season, and for the two previous seasons, even if you didn't use Tax1099 to file the original forms. Access Tax1099 year round.
Full-service delivery: Tax1099 gets your forms where they need to go. Select email service for a password-protected PDF to be sent to your vendor. Select our mail service, and track the status of the mailing. Or, print and mail the forms in office.
How it works with QuickBooks
Generate 1099's based on eligible information in QBO. Users can connect multiple clients under one Tax1099 account. For QBOA users, switching between client information only takes a click. Submit eFiles in separate batches, and still take advantage of the tiered pricing model. Edits made to forms in Tax1099 can be synced back to QBO, as can information from Tax1099's vendor management tools, W-9 and TIN matching.
Details
Security is a primary concern when working with sensitive data. We undergo an audit each year to receive our SSAE-16 SOC Type II attestation. Data is 256-bit, bank-grade secure. We backup data in real time to prevent any loss of important information. Two-factor authentication gives you another layer of security for your data. Your information, forms, and reports are saved in our system for 7 years. You may access this information at anytime throughout the year.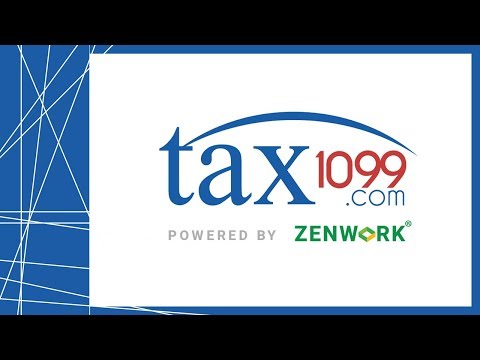 Pay as you go to eFile, deliver forms, and more. Visit our pricing page: http://bit.ly/2ULSAlC
| PLAN | PRICE | USERS | DETAILS |
| --- | --- | --- | --- |
| Tax1099 Essential | Free to create, pay-as-you to use | 1 | Tax1099 for one user. Pay as you go to eFile, deliver forms, and more. |
| Tax1099 Enterprise | $250/year | Unlimited | Tax1099 for teams. Organize your office by designating user roles: data entry, review, submit, and admin. Separate access by client. Set up separate logins. Track user actions. Includes 250 TIN match requests, discounted pricing after the first 250. |
| Tax1099 Enterprise with Notice Management | $249 Enterprise + $149 Notice Management Add-on | Unlimited | Add Notice Management to your account. We guide you through the research, response, documentation, and billing involved in managing notices from the IRS. |
We offer a Knowledge Base with helpful how-to's. Tax1099's live chat feature is available from any page. We are also available at support@tax1099.com. Our staff are available 8AM-6PM CST, Monday - Friday, with extended hours in January.
Contacts
support@tax1099.com

Online support:

https://sforce.co/2ULG1GQ
FAQ
What is your pricing for eFiling?

We have a tiered pricing model. We charge based on the number of forms you e-file, starting at $2.90 per form eFiled and going as low as $0.55 per form eFiled. Check our price calculator on Tax1099.com to estimate your charges.

Do you offer other integrations?

Yes. We integrate with QBD via plugin and/or web connector. We integrate with Bill.com, Xero, Entrata, FreshBooks, Intacct, and Zoho Books. We also provide Excel spreadsheets for you to fill and import.

Do I need to buy pre-printed 1099 or W-2 forms?

No. Once you've created your forms, we will handle eFiling them to federal and state agencies and provide them to your vendors via email, USPS mail, or PDF files you can print on plain white paper. No more rushing out at the last minute to buy more forms than you need or aligning the printer just so to match the pre-printed forms.

What other forms are available through Tax1099?

Tax1099 files forms W-2, W-2C, W-2GU, W-2VI; 940 series payroll forms; 1095/ACA forms, 1098, 3921, 3922, 5498, 480.6A, 1042-S, and more. Tax1099 also files many corrected forms.
---