Key benefits
#1 rated backup app in the Shopify app store and BigCommerce app store, Rewind helps thousands of SMBs each month to protect their data. The same great service now available for QuickBooks Online.
Get peace of mind knowing that your QuickBooks Online accounts are automatically backed up as changes happen and you can immediately undo mistakes or unwanted changes, recover deleted items, and rewind your entire account to a point in time.
Our mission is to help you recover as quickly as possible from any problem with your QuickBooks Online data. Our Customer Success Team is here to support you over phone, in-app chat, and email.
How it works with QuickBooks
Link 1 or all of the QuickBooks Online accounts you manage to Rewind. A full backup will automatically begin for each account. From this moment, all incremental changes in the QuickBooks Online accounts will be backed up within 5 minutes. Inside the Rewind Vault, you can access all yours backups.
Details
Get more control over your accounting data and save hours of work by automatically backing up QuickBooks Online. Undo changes and restore your entire account when needed. From the creators of the top rated backup app for Shopify and BigCommerce.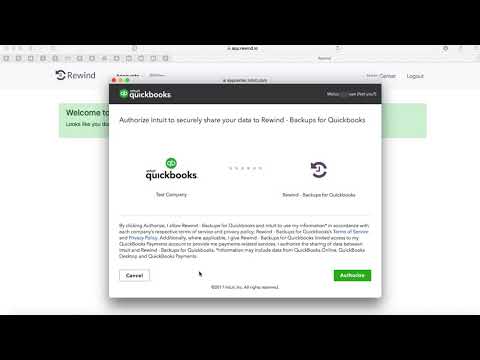 Rewind is designed for QuickBooks users, bookkeepers and accountants backing up multiple companies. Prices in USD.
| PLAN | PRICE | USERS | DETAILS |
| --- | --- | --- | --- |
| Rewind for QuickBooks Online | $10 / month for 1 account, $5 / month / account for > 1 account | N/A | Includes all features. $10 / month for a single account or $5 / month per account for multiple accounts.. |
Since 2015, the Rewind team has been dedicated to backing up cloud services and helping customers quickly recover after a data loss. If you have any problems with your account data or with Rewind, you can call us at 1-855-REWIND-IT and speak to a real person.
Contacts
help@rewind.io 1-855-5-REWIND

Online support:

https://help.rewind.io/
FAQ
If QuickBooks Online is in the cloud, why do I need a backup?

All cloud services like QuickBooks Online are securely backed up to be able to recover the entire platform after a disaster, such as a meteorite hitting the servers. This is called a disaster recovery backup and it isn't accessible to you or Intuit's support team if something goes wrong in your individual account. That's why Rewind gives you access to your own backups and greater control over your account data.

How do I restore a QuickBooks Online backup?

There's three ways to restore a backup with Rewind: Restore a single item or change back to a previous state, like an undo button. Rewind the entire account to a specific point in time. (coming early 2018) Restore your backup to a new QuickBooks Online account. (coming early 2018)

What does Rewind for QuickBooks Online backup?

TRANSACTIONS: Bills, Bill Payments, Credit Memos, Deposits, Estimates, Invoices, Journal Entries, Payments, Purchases, Purchase Orders, Refund Receipts, Sales Receipts, Time Activities, Transfers, Vendors. LISTS: Accounts, Classes, Customers, Departments, Employees (except SSN field), Items, Journal Codes (France only), Payment Methods, Terms, Vendors. OTHER: Attachments, Budgets, Currencies, Tax Agencies, Tax Codes, Tax Rates, Preferences.

What does Rewind for QuickBooks Online NOT backup?

At this time, Rewind for QuickBooks Online does NOT backup and/or rewind the following items: Company Info, Entitlements, Exchange Rates, QuickBooks Online Payments API, and Payroll. The QuickBooks Online API does not grant permissions to app developers to access this data. Since we don't have access to it, performing a rewind on your account will not affect any of this data. We are actively working with Intuit to improve Rewind's functionality for you.
---