Key benefits
Online Order Entry
Your B2B customers & reps can enter orders themselves, reducing ordering errors & freeing up your staff. Orders go to your QuickBooks automatically as estimates or invoices.
Reduce incoming calls freeing up your staff
B2B customers & reps can answer their own questions & serve themselves: Reprint invoice, Check order status, Look up inventory availability, Print history reports, download your logo & more
Don't let your reps "fly blind"!
Give your reps instant access to up-to-date sales reports & CRM tools so they can manage their customers strategically.


How it works with QuickBooks
The Crik-IT Portal integrates with your QuickBooks Online to make customer and item information available to your Crik-IT portal users. Inventory availability, customer balance and aging info, invoice history, order status, shipment tracking, & more is available for your users to access anytime. Changes you make in QuickBooks show up in Crik-IT within 15 minutes. Orders submitted in Crik-IT show up in your QuickBooks within 5 minutes. It all happens seamlessly and automatically!
Details
Want your reps & B2B customers to have QuickBooks-based info without having access to your QuickBooks?
Want them to enter their own orders?
Want to give them another way to pay you?
Want to provide your reps & management with sophisticated sales reports, including seeing actual vs targets?
Want to track & manage leads?
Do you process warranty claims & want a centralized way to manage this process?

Look no further!
Crik-IT is the app you've been waiting for... Check it out!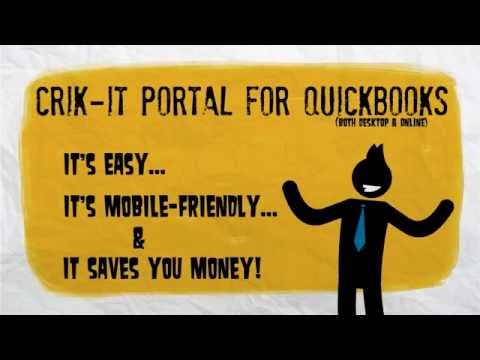 30 day risk free trial.
Packages start at just $29/month!
PLAN
PRICE
USERS
DETAILS
Customer Service Package
$29/month
1
Includes 1 in-house user.
Additional users can be added and other packages are available... Click here for more info.
Yep, we're here to help. In fact, our users are astounded by our response times.
Contact us is by email:
support@crik-it.com
.
Or feel free to call us, if you prefer... we'd love to talk to you!
Contacts
support@crik-it.com (207) 956-0685

Online support:

https://www.crik-it-portal-for-quickbooks.com/pages/contact-form.html
FAQ
How long does it take to get up and running?

It's easy! Depending on the size of your QuickBooks file, you can be up and running in as little as 10 minutes. And, if you have any problem, just call us or chat with us and we'll walk you through it!

If an order is entered in Crik-IT, do I have to enter it manually into my QuickBooks?

Nope! Within 0 to 5 minutes of an order being submitted in Crik-IT, it will show up automatically in your QuickBooks as a new estimate (or, optionally, as a new invoice).

What if Crik-IT looks really great for us, but we need a little tweak?

Call us! We want to know what our users need. This is how we continue to make Crik-IT better and better... by listening to our users! Plus we have tons of configuration options that we might be able to tweak to meet your needs.

How long has Crik-IT been around? How many users use Crik-IT? And what do they use it for?

Crik-IT was born in 2007. We have thousands of users accessing Crik-IT on a daily basis. Tens of thousands of inventory queries, orders entered, warranty claims submitted, sales reports run, invoices printed, and more are done in Crik-IT each year. See www.crik-it-portal-for-quickbooks.com for more about how different users use Crik-IT.
---