Key benefits
The easiest and fastest way to Invoice customers from directly within your QuickBooks Online or embedded in any separate invoicing-tool, email, text or Web-payments. The ONLY option now for passing "Credit-card Surcharge" to your end-customers!
Attaches to your existing website (if wanted!) in under 5 minutes! Allows for future Quick Rebilll or simple Recurring-Schedule setup. Allows for E-Check/ACH and Paypal too. Can do Multiple Invoices too! And yes - can add the "Credit-card surcharge".
Assign transactions directly into QuickBooks Online Revenue-buckets to save re-classification time! We allow customizing your Checkout Page. For Card-Present merchants, ability to do "Daily Total" 1-entry data-load for simpler Bank-reconciliation
How it works with QuickBooks
Whether it's a one time payment thru a branded Checkout Page or a recurring transaction, our integration for credit-cards and Check/ACH means you never have to do double-entry again. Saves you and your customers time, and saves your business money. Invoice objects will be marked as "Paid" with the Payment object in QuickBooks Online. If you don't use Invoicing, then we can mark the payments made by your customers directly on your website as "Sales Receipt" object in your QuickBooks Online.
Details
Attaches to your website in minutes (if you want that). Easily send out Invoices with your own Brand-friendly and Mobile-friendly Payment Link. Ability to Quick Re-bill and create Recurring Billing schedules from any individual payment. The ONLY QuickBooks Online App that now handles "Class" and "Location" assignments! If you want a "Send Payment" button on your website, we save you having to get a $400/year SSL Certificate and save you dealing with any coding issues! Everything you could possibly imagine you need - we've thought of for you!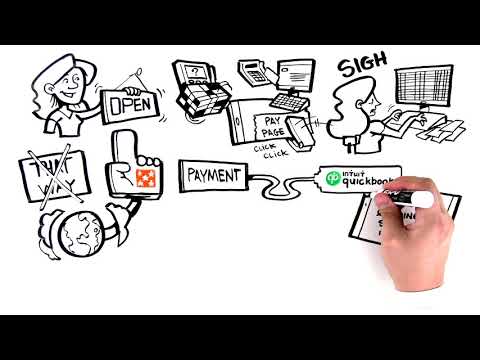 Account/QuickBooks Online Integration/HostedCheckout & More for flat $25/mo! Keyed CC rates at industry-lowest 1.95% Debit, 2.10% Credit for Qualified Cards. $0.22/txn. $150 Setup fee (additional $37 for E-check). NO Cancellation fee!!
| PLAN | PRICE | USERS | DETAILS |
| --- | --- | --- | --- |
| Monthly Fee | $25/month Fixed | Unlimited | Includes everything: Hosted Checkout Page, QuickBooks Online Integration, Email Links, Invoicing, Merchant-Account, Recurring Transactions, Quick Re-Bill, PCI Compliance (ACH Service $7/month extra, $0.25 and 0.25% per txn) |
| Merchant Rates | 1.95% / 2.10% | Unlimited | 1.95% (Debit) & 2.10% (Credit) - Qualified Rate for Majority of Cards |
| Mid-Qual / Non-Qual Rates | 0.55% / 1.10% | Unlimited | 0.55% Mid-Qualified & 1.10% Non-Qualified surcharge for Corporate Cards, Foreign Cards, certain Rewards Cards |
| Transaction Fee | $0.22 | Unlimited | Per-Transaction Fee regardless of Transaction amount |
| Hosted Checkout Page Setup Fee | $150 | Unlimited | Setup cost for your own Brand-Friendly, Mobile-Friendly Checkout Page with Open-Invoice Amount field and Pre-Loadable Amounts. Easily connected to your existing Website with any combination of FREE Add-ons. Customized Checkout Pages available too. |
We're very happy to speak by phone with any customer or prospective customer! Just give us a call (212.931.9064 x.1). Or you can email us too (info@freedommerchants.com).
Contacts
info@freedommerchants.com 1 888-FMC-5632

Online support:

https://freedommerchants.com/fmc-about.html#contact
FAQ
How long does account setup take?

We'll have you up and running within a day or two after we receive your Application. **Linking your QuickBooks Online to our App online is just the 1st of a 2-step process. Step 2: We need to get basic Business-Info to create the Merchant-Account (FreedomMerchants.com and click "Sign-Up" in the top-right corner). Once we get your info, we send you a PDF for E-sign. We also need a Voided-Check where funds should depositing! Other documents may be needed for larger accounts. NO Cancellation fees!

What will be my rates? Can you do Card-Present too?

Keyed Qualified Debit cards will be 1.95% and Qualified Credit cards 2.10%. A $0.22 transaction fee. Mid- and Non-Qualified fees apply for certain card-types like Corporate cards and International. Maximum rate is 3.20% for Non-Qualified Credit cards. We also handle E-Check which is an extra $7/month, a $37 one-time Setup Fee and $0.25/0.25% per-txn. You can do Card-Present POS too. Swiped Rates are 1.40%/1.75% Qualified Debit/Credit. (Other Visa/MC assoc fees will apply).

Does my web-developer have to do anything if I already have a website up? How do I add a "Surcharge" so my customers can pay the fee?

We just need your Web-Developer to be aware of what we're creating and can even speak with them. We create your Checkout Page and connect it to your existing site if you want. We customize your Invoice page with anything. We have Class/Location support as well as support for "Outstanding/Open Balance Amount". **NEW: We can easily turn on "Credit-card surcharging" so your customer pays the CC-fee, saving you thousands. We properly allocate the amount into your QuickBooks Online.

Does your system allow me to quickly Re-bill existing customers and also handle Recurring transactions? What about Shopping-carts and POS systems?

Yes, our system allows for a "quick re-bill" to a customer who's already made just one payment. Our system also easily allows for Recurring transactions. Our system also integrates with most of the leading Shopping-Carts around and POS systems out there as well - like MailChimp, ConstantContact, and many many more!
---