Key benefits
Review your transactions. With Connect to PayPal, you can review all your transactions before you add them into QuickBooks.
Get more detail. Where available, Sales receipts will capture line level detail such as items sold, discounts, shipping and tax.
Track fees separately. When adding a transaction from PayPal. we'll automatically record the PayPal fees for you to an expense account of your choice so you don't have to enter them by hand.
How it works with QuickBooks
Connect to PayPal is the seamless, smart, and simple way to bring your PayPal transactions into QuickBooks. Via a direct connection with PayPal, we'll retrieve any balance affecting transactions you have in PayPal and display them in your QuickBooks banking tab. You can then easily edit, categorize and match transactions to ensure your books are accurate and up to date.
Details
Your PayPal transactions including sales, fees, purchases and transfers are sent to QuickBooks for review. Once connected, you will be able to review your transactions and add them to your books - just like a bank. PayPal fees will be added as a separate expense account so you can save time and no longer enter them manually. And, when creating reports, you'll have better insights into how your business is doing.

Useful Links
Tutorial
User Guide
ProAdvisor review and walkthrough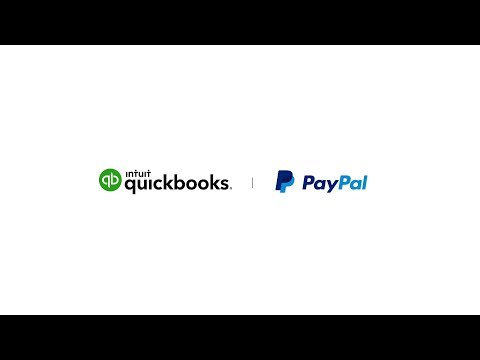 Connect to PayPal is free to all QuickBooks Online customers.
| PLAN | PRICE | USERS | DETAILS |
| --- | --- | --- | --- |
| Free | Free | N/A | This data integration between QuickBooks and PayPal is free |
Check out our resources & guides in the FAQ section. You can also contact us through QuickBooks support for additional help.
Contacts
1-800-488-7330

Online support:

https://help.quickbooks.intuit.com/en_US/contact
FAQ
Does Connect to PayPal replace the Sync with PayPal app and PayPal Bank Feed?

Yes it does. Connect to PayPal is a more robust app that brings in your PayPal transactions into QuickBooks with new features. If you are an existing Sync with PayPal customer or PayPal Bank Feed user, you can disconnect your existing integration and click Get App Now to set up Connect to PayPal

Can I import historical transactions? If so, what is the limit?

Yes, upon initial setup, you will be asked if you would like to import up to 18 months of historical transactions. Once you determine the starting date, click import, and your transactions will start coming into your QuickBooks account.

How often PayPal is updated? Can you update on demand/manually?

Once a transaction is fully processed/completed through PayPal, it will appear in the "For Review" tab of the banking screen, usually within 2 hours. There isn't an ability to update on demand, however we are constantly monitoring throughout the day for changes to your PayPal account.

Where can I learn more about how Connect to PayPal works?

There are a number of resources you can check out:

Useful Links
Tutorial
User Guide
ProAdvisor review and walkthrough
---