Key benefits
Multi-Channel inventory sync.
Flexible options to sync orders, sales receipts, and invoices.
Shipping integration with USPS, FedEx, UPS, DHL eCommerce, DHL Express, among others.
How it works with QuickBooks
Better track your online sales and inventory using our seamless integration with your QuickBooks Online company. We automatically sync orders from 30+ marketplaces and shopping carts, including eBay, Amazon, Jet, and Walmart, help you save time and money.
Details
Teapplix provides many ways to sync orders to your QuickBooks company. You can choose to create Sales Receipts, Sales Orders, or Invoices. Sync individual orders or group them by date into a summary. Create individual customers or one per marketplace. Deposit proceeds into separate bank account with the right currency for each marketplace. Record fees or not. Use default inventory vs inventory lookup table. The configuration UI is very easy to use, and we support account-based customization.
In addition, your Quickbooks Online ccompany can be used as inventory master: track inventory quantities using Teapplix automatic order sync.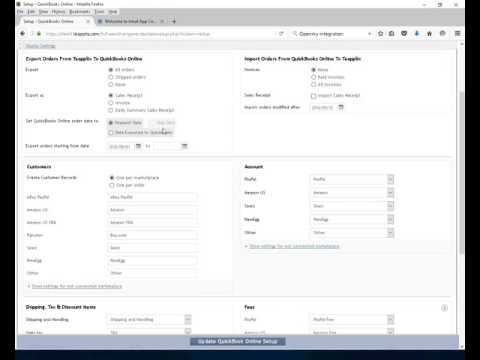 30 day free trial, no credit card required, plans start at $15/month.
| PLAN | PRICE | USERS | DETAILS |
| --- | --- | --- | --- |
| Basic | $15/month | Unlimited | Unlimited stores. Syncs 0-500 orders per month. |
| Advanced | $30/month | Unlimited | Unlimited stores. Syncs 500-1500 orders per month. |
| Pro | $45/month | Unlimited | Unlimited stores. Syncs 1501+ orders per month. |
Free phone and email support.
Contacts
support@teapplix.com (650)516-6058

Online support:

http://www.teapplix.com/contact.html
FAQ
How do I connect Teapplix with my QuickBooks Online account?

It is very easy. Once you login to your Teapplix account, you can click on a button on the Integration Setup page to connect to your QuickBooks Online account.

What order details are synced to QuickBooks Online?

The order details include: customer information, item quantity and prices, discounts, shipping & handling, taxes, and markplace fees. When you use our software for shipping, the shipping postage can also be included as an expense. Amazon refunds can be synced as credit memos.

Can I also sync orders to Quickbooks Desktop on Windows?

Yes. Teapplix supports almost all versions of U.S. editions of QuickBooks Financial Software products including QuickBooks Pro, QuickBooks Premier, and QuickBooks Enterprise. We also support QuickBooks POS.

What is the maximum monthly fee I will pay if I have multiple channels with large volumn of orders to sync each month?

The maximum monthly fee you would pay is only $45/month, no matter how many channels (marketplaces and shopping carts accounts) you have and how many orders to sync each month.
---