Key benefits
Save time and money by being able to import your Excel supported files (xls, xlsx, csv and tab delimited) fast and accurately.
Save more time. Multiple files can be imported at one time and can even monitor folders (Gold Edition) for more automation.
Can be launched from a batch/cmd file or from another program for interfacing with other systems.
How it works with QuickBooks
The EXTREMELY FLEXIBLE app is a Windows desktop app that reads your Excel types of files (xls, xlsx, csv, tab delimited) and create transactions and or list in your QuickBooks Online company.

The app is extremely flexible with many settings to have it done your way.

It can dynamically create customers, vendors, items, etc. as needed if you want.

Can do lookups based on Account Numbers, etc. (in Silver and Gold Editions)

Details
New to Apps.com but not the marketplace.
Import into QuickBooks Online Sales Transactions as Invoices, Sales Receipts, Payments, Bills and also list like customers, items, accounts, etc..

Data in your file is easily mapped with the column drop down mappings i.e. Name is in column C in your file, item is column H, etc..

Header row not required.

Can use fixed cells, named cells or literals.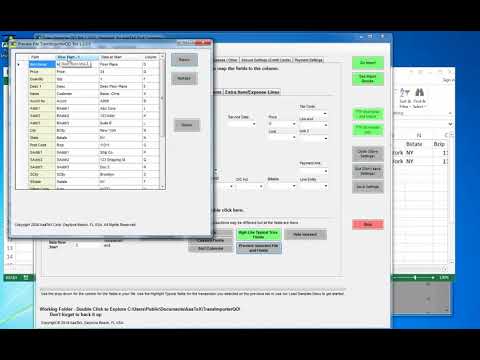 We price based on the types of transactions being imported. Sales transactions only need the Standard Edition. All plans except the Diamond are for 1 QuickBooks Company. All prices is US Dollars.
PLAN
PRICE
USERS
DETAILS
Standard Edition for basic importing
$192/yr (works out to $16/mo.)
Unlimited
For Sales Transactions (i.e. Invoices, Sales Receipts, Payments)
Silver Edition for more functions
$242/yr (apx $20/mo.)
Unlimited
Supports lookups by account number and additional functions.
Gold Edition all types plus more ...
$282/yr (apx $24/mo.)
Unlimited
Profiles. A profile is a complete set of all the settings and mappings.
Can monitor a folder for automation.
Can import multiple files in one execution.
Diamond Editions for multiple companies
$552/yr (apx $46/mo.)
Unlimited
Multiple QuickBooks Companies License. Top of the line for this product.
We fully support our products. We answer the phone during normal business hours (Eastern Time Zone) from our American Call Center but email is preferred. Emails answered usually within 20 minutes during normal business hours. We can help you with the setup if needed. Defects fixed for free usually in 1 business day. Remote session support available.
Contacts
support@aaatex.com 386-868-2234 x2

Online support:

http://www.AaaTeX.com/Support.htm
FAQ
Is it easy to setup?

Yes, we can even help you if needed. Has plenty of sample files and can load the normal settings for most of the different transaction types.

How long has your system been importing into QuickBooks Online?

We are new to Apps.com but not QuickBooks. Our products have been importing into QuickBooks Online for over 10 years.
---