Key benefits
ULTops is a cloud-based 3-in-1 online order plus inventory and resource management software that simplifies order processing and automates the inventories with complete materials resource planning (MRP) for all manufacturers and businesses.
PORTAL: Specialized customer Portal for store front or retail shop access to place orders online. The multi account feature assigns specific products and items to each customer for various customer base industries.
MRP: Schedule events for material resources needed for the order and monitor its progress for completion before delivery dates with ease. It's simple to create unlimited events and resources with drag and drop function with user friendly calendar UI.
How it works with QuickBooks
ULTops orders (i.e. invoices) to QuickBooks with a single click. Import and export data from ULTops to QuickBooks and vice versa. Keep your accounting records up to date in real time and measure your growth both with ULTops and QuickBooks.
Details
ULTops provides a feature from admin page to connect to QuickBooks, upon successful connection to QuickBooks, it imports your data (Customers, Products (ie. items), Vendors and Purchase Orders) and sync with ULTops database. While connected, any data changes or adds from ULTops will be saved to QuickBooks database automatically. Offline changes in ULTops can be synced with QuickBooks with a "SYNC to QuickBooks" button. Plus every ULTops orders also know as invoice created from admin and from customer portal can be ported to QuickBooks easily with a single click. QuickBooks connection can be disconnected anytime at ULTops admin page.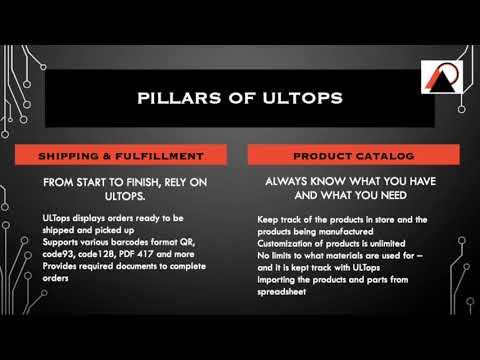 All subscriptions include:
Unlimited customers
Unlimited items/products
Unlimited vendors/suppliers
Unlimited purchase orders
http://www.ultops.com/pricing
| PLAN | PRICE | USERS | DETAILS |
| --- | --- | --- | --- |
| Basic | $10 | 1 | 1000 Orders/mo |
| Power | $25 | 3 | 2500 Orders/mo |
| Plus | $50 | 7 | 5000 Orders/mo |
| Premium | $100 | 15 | 10000 Orders/mo |
Contacts
support@ultops.com 1-561-251-6632

Online support:

http://ultops.com/faq
FAQ
How ULTops and QuickBooks work together?

With ULTops you can port all your orders (i.e. invoices) to QuickBooks just as they had been created on QuickBooks. Plus import and synchronize your products aka items, customers, vendors and purchase orders between ULTops and QuickBooks.

How my changes are sync with QuickBooks when not connected?

ULTops flagged the modified data for offline changes, and it can be ported to QuickBooks after successful connection by selecting "SYNC to QuickBooks" button.
---